Following on from the recent rainfall event which has caused moderate to major flooding along the Lachlan River around Forbes in the Central West of New South as well as other concerns of saturated catchments along some river catchments across the state and Eastern Victoria, another rainfall event is now looming.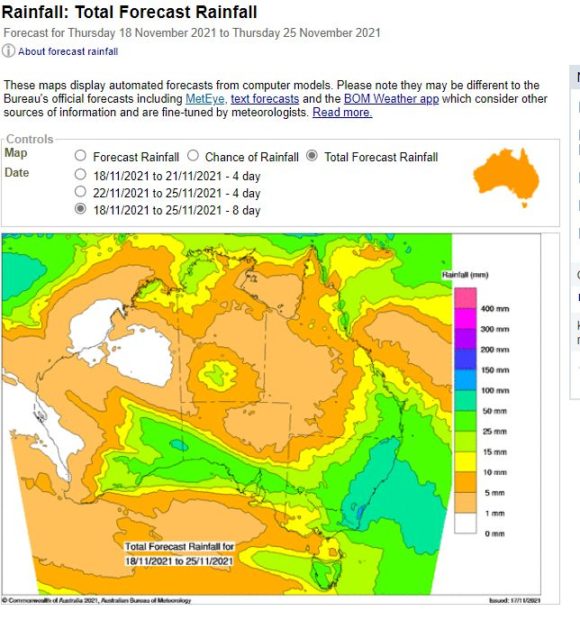 This event is of concern and while models are varying again as to who would be receiving the higher totals, there is general consensus that Eastern and south eastern New South Wales would be receiving the higher totals.
If the models are accurate then:-
The Central West area focusing on the towns of Forbes / Young / Bathurst / Mudgee regions.
The south coast focusing on Nowra / Ulladulla and Batemans Bay.
Could potentially experience the higher rainfall totals.
However, some models have also suggested the Upper Murray Region above the Hume Reservoir to experience a significant event for Sunday and thus is another area to be watched.
This event also has potential to impact Sydney on Sunday.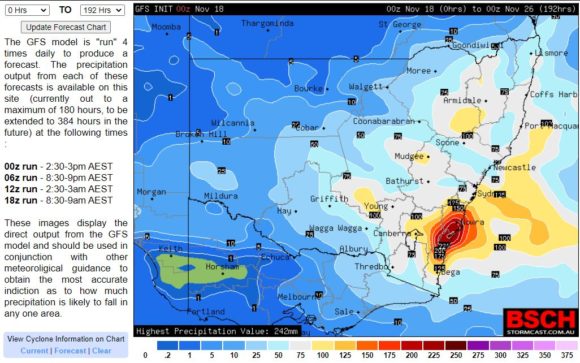 It is becoming clear that Eastern and Southern areas New South Wales will be impacted by this event. Should it occur across the Central West as suggested, then it will have potential to exacerbate a serious flooding situation along the Lachlan River. The flood levels of Wednesday afternoon 17 November at Forbes is attached to show what the concerns are.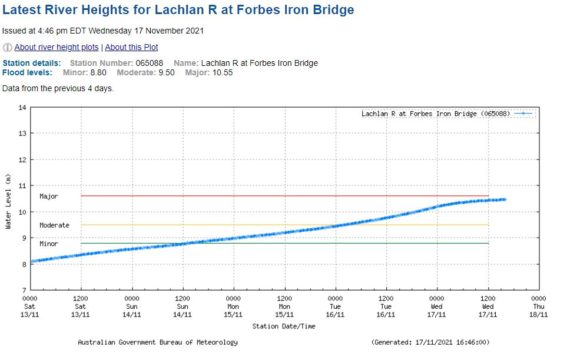 Rainfall totals of greater than 25 mm are being forecast across large areas of Eastern New South Wales with higher totals of 100 to 150 mm being made for the Ulladulla / Batemans Bay region. Models are also showing 50 to 75 mm for the Sydney region although that is not being reflected in actual forecasts being made on Sunday for the city.
Flooding risks do exist along several inland rivers as catchments are saturated from recent rain and storm events.
Further flood risks also exist along the Gwyder / Macintyre River especially given that a smaller flood is currently passing along tributaries of the river system east Mungindi.
In addition, the Upper Murray region is also wet and with the Hume Reservoir at 97% capacity, a flood threat also exists along this river although releases are being made to create spare capacity.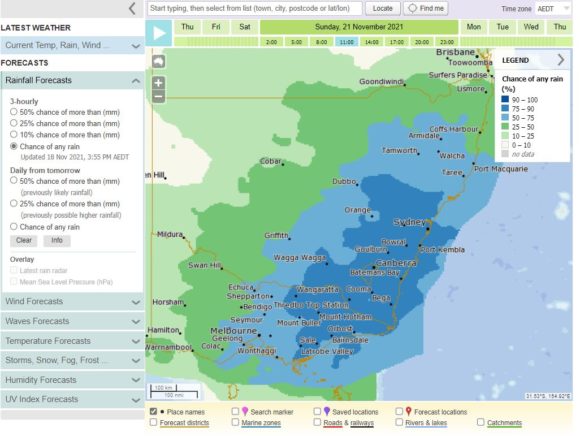 Burrendong Reservoir is at 128%, Chaffey and Wyangala are at 101% and Burrinjuck Dam near Yass is at 98%. This shows that some of the larger dams in the state do not have much spare capacity to handle another major rain event.
Whatever occurs, this is one event that will be watched with interest by authorities due to the flood risk that exists.
Related Terms: