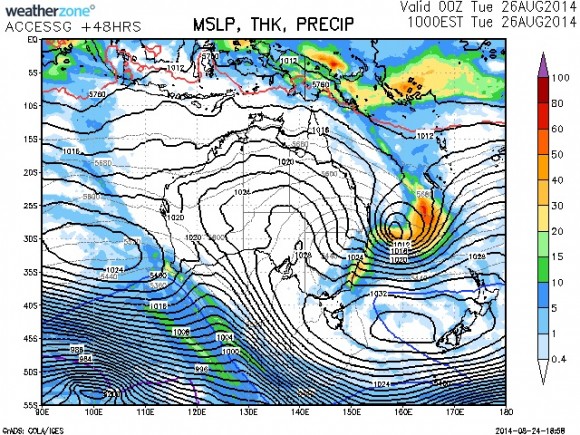 Models are consistent in placing an another East coast low this time off the NSW north Coast by mid week. Some heavy falls are likely as the system develops and intensifies. Moisture has already been fed into Eastern NSW as a result of the NE airstream over the past several days since the previous east coast low.
This is quite impressive given the past several months were relatively dry across much of Northern and Eastern Australia. The system may last until the end of the week.
Initially, a cold pool located over Victoria is anticipated to be situated over eastern NSW by Monday evening. Coupled with the I feed of moisture, rain should increase with some respectable falls overnight until Tuesday.
The heaviest rainfall should be on the Mid North Coast of NSW with falls up to or exceeding 100mm by Wednesday morning as the low intensifies and becomes situated nearer the coastline. More rain will persist into the week but much depends on the relative position of the low pressure system.
Update 26th August 2014
Radar shows that rain and storms will be headed inland near Sydney which could put some substantial rainfall across the Sydney basin and also the Central Coast.
See : 128km Radar Loop for Sydney (Terrey Hills), 00:00 25/08/2014 to 00:00 26/08/2014 UTC
Related Terms: