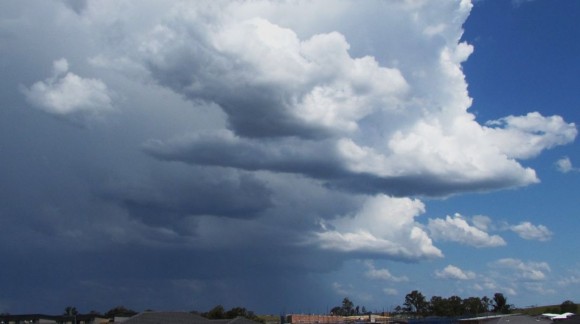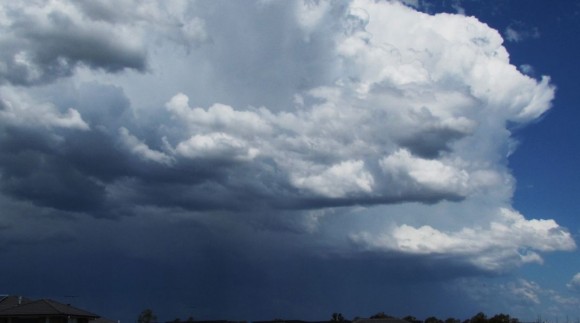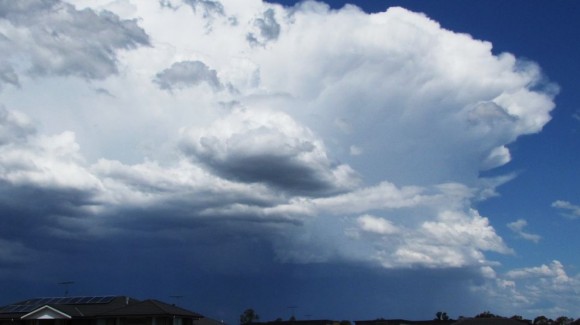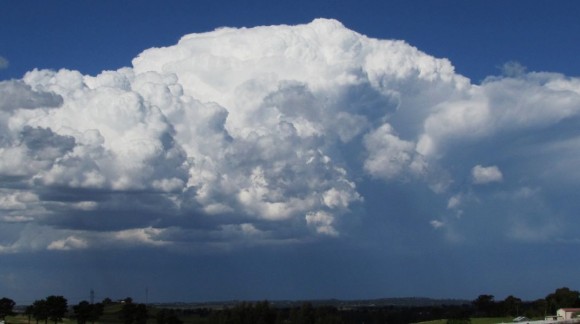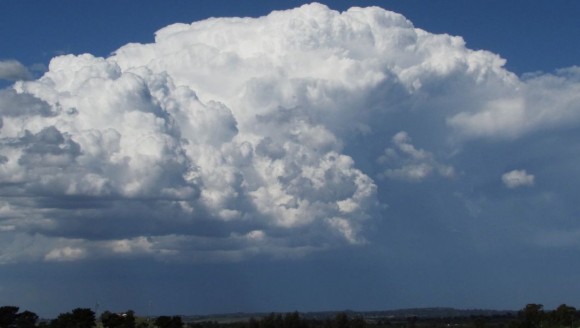 For the second day in a row, thunderstorm activity occurred somewhere within the Sydney region although they were hit and miss in nature.
During the afternoon, I undertook another storm chase in the region bounded by Richmond to the north and Luddenham to the south. However, I finished up observing storms from far outer western Sydney because they were forming in areas where I could not drive to in such a hurry.
The storm cells were often small but high based. Maximum temperatures across western Sydney were above 30C such as 32C at Penrith with 8.3C dew points according to the local weather station at 3.30 pm. A reasonable north west wind was blowing at the time.
One particular cell that formed south west and south of Penrith over the Camden region consolidated enough and as it moved eastwards, the storm produced a heavy shower of rain and according to media reports, small hail over parts of Campbelltown and Sutherland regions. Furthermore it is understood that a lightning strike on an electricity substation knocked out power to a large part of Sutherland Shire.
I was close enough to that storm to observe a small number of lighting strikes and hear rumbles of thunder.
It is identified that the storm had a narrow path and 21 mm of rain fell at Campbelltown (Mt Annan) followed by 19 mm at Kentlyn and 14 mm at Royal National Park weather station. That storm weakened as it crossed the coast.
It appears the storms impacted south east Sydney the most. Another storm cell developed thereafter but over south east and east Sydney City region. I could only watch the cell build from Luddenham although it was photogenic at times.
One high based cell came off the Blue Mountains towards Richmond later during the afternoon so I drove towards Richmond only to discover it had decayed by the time I reached the area. One other storm cell developed over Blacktown and I proceeded to take photos of that one.
By roughly 4.30 pm, I decided to end the day and drove back to Blacktown.
Overall storm cells were high based and many were small and a lack of moisture was evident at low levels of the atmosphere. Still, a number of photos were taken to show what occurred especially over south east Sydney region and some images are quite reasonable given the conditions that prevailed.
Related Terms: