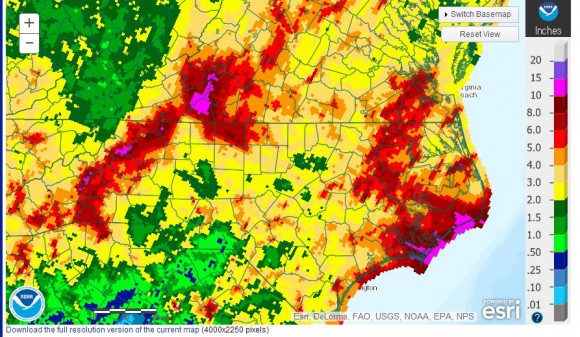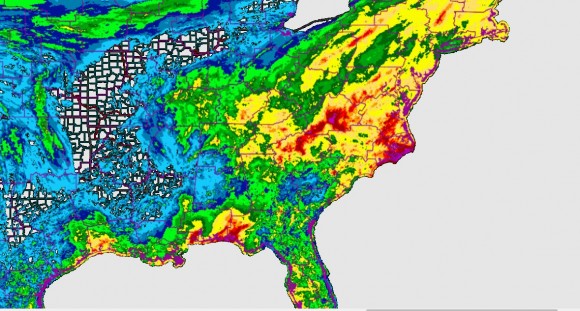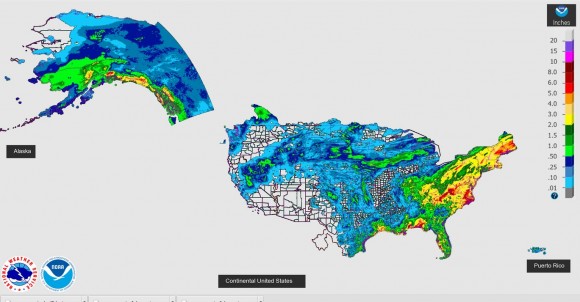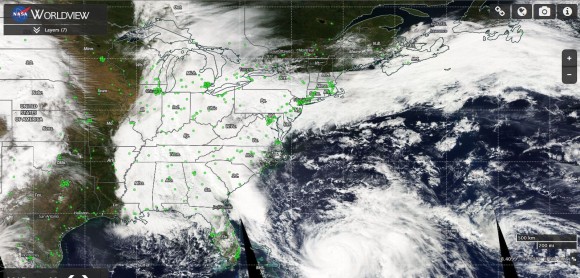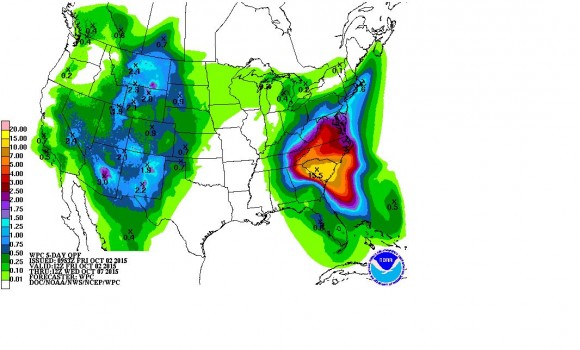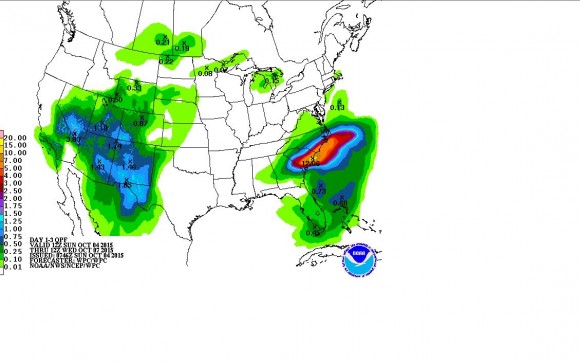 A major rain event across the states of Delaware, Maryland, New Jersey and Virginia have forecasters and authorities worried. As identified in another discussion thread, a significant weather event is unfolding across a large swathe of eastern United States of America in which days of heavy rain and storms is leading to a flooding emergency.
Until recently, there were fears that a major hurricane (Hurricane Joaquin) could make landfall across north Carolina which would worsen the situation. However after battering the Bahamas Islands, that storm has now peaked in intensity and starting to weaken. Hurricane Joaquin is moving north east and further away from coastal United States and no longer presents a threat. That storm should now decay over open ocean.
Notwithstanding this, the weather event impacting eastern United States for the 7 day period to Friday 2 October has already brought heavy rainfall in excess of 150 to 200 mm to many areas. The heaviest falls have been occurring over North Carolina and parts of southern Virginia where between 10 and 15 inches or 250 mm to 375 mm of rain has fallen during the past 7 days. In addition, a substantial area has received at least 50 to 100 mm during the past 7 days.
More concerning and as shown in the NOAA rainfall forecast plot for the next 5 days (Taken 2/10/15), a forecast of a further 10 to 15 inches (250 to 375 mm) of rain is being made for a majority of North Carolina with significant falls across a swathe of north east United States. Such rainfall would only worsen a flooding situation.
As shown on the attached MODIS Worldview satellite image of the eastern USA (3/10/15), even without the impact of Hurricane Joaquin making landfall, it can be seen that a large swathe of eastern United States is under heavy cloud which is producing so much rain over certain states. The cloud shown is impacting most eastern states.
Currently flash flood warnings and watches and coastal flood warnings are in place for areas of northern Georgia, South Carolina and North Carolina.
As an example "Record Rainfall and Life Threatening Flash Flooding" warning is issued for Moncks Corner (Berkeley County). The overview is suggesting a significant flooding event that is developing across southern South Carolina and portions of Eastern Georgia. "A powerful low pressure system over SE United States will slowly move NE across the area through Sunday. Several weather hazards accompany this storm most notably the potential for dangerous flooding from heavy rainfall and high tides" (National Weather Service 3/10/15).
An area around Charleston is forecast to receive 8 to 10 inches of rain through Sunday with Moncks Corner, Summervill and Walterboro being heavily affected. Residents in such areas are being warned for potential flooding. Already substantial rain has fallen in this area over the past 3 days.
The National Weather Service at Wilmington (North Carolina) has given some 24 hour rainfall at some locations in North Carolina 3/10/15:-
Bladen County
Elizabethtown (4 NNE) 6.68 inches.
Elizabethtown 5.44 inches
Rainage at William 4.6 inches.
Brunswick County
Calabash 9.04 inches - Converted to 229.6 mm.
Longwood 7.04 inches.
Sunset Beach 6.63 inches.
Leland 4.86 inches.
Horry County
Little River (16 inches) - Converted to 406.4 mm.
North Myrtle Beach 15.86 inches - Converted to 402.8 mm.
Buck Creek 8.22 inches - Converted to 208.8 mm.
This is showing some very significant rainfall of up to 406 mm falling across Horry County.
There are 61 river gauges showing flooding with four of those showing major flooding and 13 showing moderate flooding. If Virginia is used as a small sample, then major flooding is occurring at James River at Jamestown Scotland Ferry while 5 locations around Chesapeak Bay show moderate flooding.
A rainfall plot generated on the 2 October for the 7 day period on the National Weather Service site demonstrates what is occurring in terms of rainfall. It shows the whole eastern United States as being wet.
Notwithstanding such heavy rain, it appears the rain will ease within 3 days as longer range rainfall plots suggest rainfall easing after Day 3 (Quantitative Precipitation Forecasts) although not before another deluge of as much as 250 to 375 mm to limited locations occur.
CREDITS
1 - NASA (Worldview MODIS) Image with overlays (Modified to include location of urban centres and latitude and longitude) Acquired from NASA 3/10/15.
2 - NOAA (Rainfall plots) and rainfall forecast plots acquired 3 and 4 October 2015.
3 - National Weather Service USA (Rainfall figures) for 3 October 2015.